Kyoto's April starts with the yell, "yoo-i-ya-saa!". You can hear it at the Miyako Dance Festival performed by maiko and geiko of Gion-Kobu.
In this season, cherry blossoms bloom here and there and the whole city becomes in full bloom of spring.
At beginning of month, maiko still wear lined kimono, and toward the end of month, it gradually changes to unlined ones. Their light kimono tells an arrival of genuine spring. Along with kimono, obi changes as well. -from ori-obi (woven obi) to some-obi (dyed obi).
For the month, they wear kanzashi (ornamental hairpins) on cherry blossoms motif while some senior maiko choose to wear the one with butterfly motif.
When cherry blossoms start falling, some start wearing the one with wisteria which symbolizes upcoming season. Maiko's decorative accessories like kanzashi change with the turns of seasons.
Bright colored kimono is characteristic of April, too. Such kimono makes maiko stand out more and more, especially under the illuminated cherry blossoms at night.
Talking about cherry blossoms, it seems to bloom a little bit later than usual this year.
Although, I would say the season is perfect for seeing and encountering maiko and geiko during daytime as they come and go to the Kaburenjo Theater to prepare for the Spring Dance Festival mentioned.
But please be careful, some you'll see on the street could be tourists who enjoy the maiko transforming experience. You can tell the difference between real and the other, not just by their appearance but also a dignified standing figure and elegant behavior. So watch out!
Highlight events in Hanamachi,April
●Until the 7th
Kitano Dance Festival at Kamishichikenn Kaburen Theater
---
●From the 1st to 30th
The Miyako Dance Festival at Gion-Kobu Kaburenjo Theater
---
●From the 7th to 22th
The Kyo Dance Festival at Miyagawa-cho Kaburenjo Theater
---
●The 16th
Heian Shirine Dedicated Dance Ceremony at Heian Shrine
---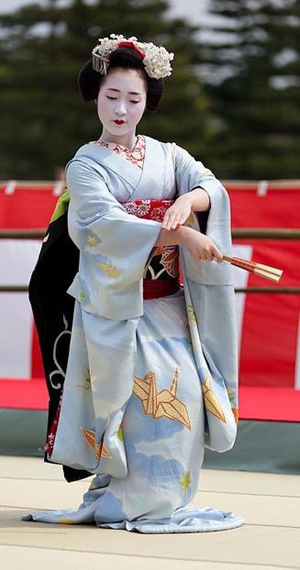 Events in Kyoto,April
●Until the 8th
Gion Shirakawa night cherry blossom illumination around Tatsumi Shrine of Gion Shimbashi
---
●From the 4th to 8th
Kyoto Imperial Palace open house in spring at Kyoto Imperial Palace
---
●From the 7th to 22th
The Kyo Dance Festival at Miyagawa-cho Kaburen Theater
---
●The 8th
Flower Service for Yoshino-dayu at Joshoji Temple

The Yasurai Festival at Imamiya Shrine

Kamo Kyokusui-no-utage at Kamigamo Shrine
※Kamo Kyokusui-no-utage is a Poetry Ceremony. In this ceremony, participants sit along a stream and wait for a floating cup to come towards them. Before this cup arrives, they try to make a short poem.
---
●The 13th
Jusan Mairi (the thirteen year)visit at Koku Jizo Horinji Temple
---
●From the 21th to 29th
Mibu Kyogen Play at Mibu Temple
---
●The 29th
Kyokusui-no-utage at Jonan Shrine
---
The absolute place to go when you turn 13 years old in Kyoto!?
When Kyoto is full of cherry blossoms, there is an important event that you should never forget. It is called "the Jusan Mairi" which literally means 'visiting to a temple at thirteen years old'.
In Kyoto, there is a custom to visit the Kokuzo Bosatsu of Horinji Temple in Arashiyama, when children reach the second turn of the Chinese zodiac, or thirteen years old according to the East Asian age reckoning. They pray the Bosatsu for wisdom, good luck and virtue to become a good grown-up.
Both boys and girls follow the tradition, but especially for girls who are born and reared in Kyoto, it is one of the most impressive events. Many girls are dressed up in a beautiful kimono.
If she wears western style clothing, the outfit is more carefully chosen than usual. As children are not so accustomed to wearing kimono today, they have hard time climbing up stone steps to reach the temple as well as the parents.
However, when they reach to the worship hall and look down upon the landscape of Kyoto, they really feel the child's growth and cannot help but cerebrate it.
By the way, Jusan Mairi has another important thing. There is a bridge called 'Togetsukyo' over Oi River (or Hozu River) near Arashiyama. The bridge is famous and often seen in a thriller and there is legend that all wisdom and virtue that the child received disappear if he or she looks back before crossing the bridge.
As you can expect, there is a canned joke. Brothers, sisters, or even parents with a bit of mean heart ?they try to make the thirteen-year-child look back and say "Hey! You have dropped something! " It is an amusing sight which is often seen at this time of year. If the child turns head, he or she has to go back to the beginning of the bridge and start walking again.
Nevertheless, it makes another good memory. In Japan, academic year starts in April so both parents and children have busy days. I hear that not so many families visit Horinji Temple these days, but the Jusan Mairi is one of the traditional events that represent Kyoto. I hope it is carefully preserved for many generations down to the children and their children.
---
Photos:Copyright(c)2012 Geisha Japan All Rights Reserved
Special Thanks to: WALKKYOTO http://walkkyoto.exblog.jp/i30/
---