The blossom ornamental hairpin that shines on maiko's beautiful black hair, gives a sign of the coming of spring. Athough the weather is still a bit chilly in Kyoto, there are plenty of events for geiko(mature geisha) and maiko(geisha) to take part in.
However, this month's full of festivals and events is actually a great challenge for geiko and maiko. Starting from the festival dance in Kitano on 25th March to all kinds of festivals coming up in April and May, geiko and maiko are practicing hard everyday.
Experienced mature geiko and maiko are facing the challenge of holding all kinds of responsibilities while new geiko and maiko are trying their best to help.
It is because of all the precious time and great effort these geiko and maiko had put in, we all could enjoy their remarkable and wonderful performance that could touch our hearts.
This Month's Event in Kyoto
3rd(Mon)        Doll's Festival Ichihime Shrine
        Nagashi-hina Festival Simogamo Shrine
          Touka Shinji Kamigamo Shrine
10th(Mon) Hozugawa Kudari Kawa Biraki Hozugawa・Arashiyama
14th(Fri)〜15th(Sat) Seiryu-e (The Blue Dragon Festival) Kiyomizu Temple
14th(Fri)〜23th(Sun) Kyoto Higashiyama Hanatoro 2014   Area around Higashiyama
25th(Tue)〜7th Apr(Mon) Kitano Dance Festival   Kamishichiken Kaburenjo Theater
  
28th(Fri)〜6th Apr(Sun) Gion Sirakawa cherry blossom illumination Gion Shirakawa,Tatsumi Shrine
29th(Sat)         Gion Higashikanki Shrine Tea ceremony Gion Kanki Shrine
30th(Sun) Hanezu Dance Festival Zuishinin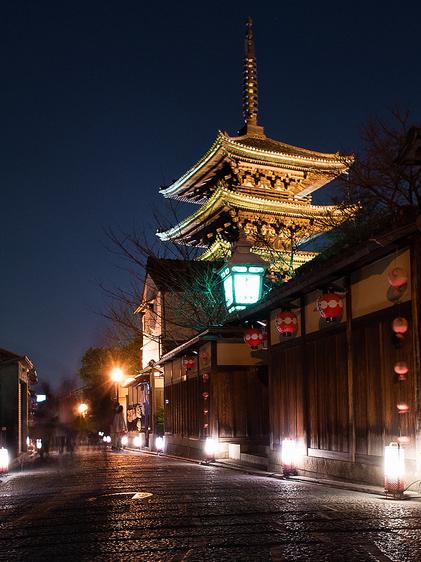 This Month's Recommendation
During the period of Kyoto Higashiyama Hanatoro, Geiko and Maiko will be dedicating Japanese dance in Yasaka Shrine.
Although there are many people every year in Hanatoro, please don't hesitate to come visit us! Please check the schedule when you come.
Location: Yasaka Shrine
Dance performace: Date as follows, (6:30pm, 7:00pm,7:30pm) 3times each day
15th March(Sat) Gion-Kobu
16th March (Sun) Miyagawa-cho
21th March(Public Holiday) Ponto-cho
22th March(Sat) Kamishishiken
23th March(Sun) Gionhigashi
When you are about to recieve our Sakura News, five of the Maiko
will be entertaining people who visit the Gion Sirakawa cherry blossom
illumination. There will be charge for the Japanese tea but I heard
that you will be able to take photos!
Wouldn't it be wonderful if the cherry blossom bloom?!
Location:Infront of Gion Kanki Shrine
Date : 29th March (Sat)2pm〜4:40pm
Charge for Japanese Tea :1500yen
Please enjoy this wonderful time in Kyoto and thank you very much!